Delectable creole delight….doesn't that just sound yummy and mouth watering? As you probably have heard me mention before, I was born and raised in New Orleans and we are extremely well known for our yummy cajun cooking! One of my family's traditions is to cook a big dinner and have family time on Sunday's. Now that I've moved to Dallas on my own, I still try to keep some form of the tradition and cook a nice home cooked dinner for myself on Sunday. One of my favorite dishes to cook is this yummy seafood pasta with shrimp and crabmeat. All of the recipe details are below. Let me know how the recipe turns out if you decide to try it! Happy eating!
Ingredients:
– Half a pound to 1 pound shrimp. Raw shrimp or frozen will work. Make sure shrimp are peeled and deveined before mixing into the recipe.
– Small container of crabmeat. Lump crabmeat works best. Try to avoid using imitation crabmeat if possible.
– 1 6oz can of tomato paste
– 1 8oz can of tomato sauce
– Roughly 2 – 4 tablespoons of butter
– Small handful of finely chopped celery and onions
– Salt, pepper, season-all, and cayenne pepper to tase
– Water as needed
– About half a package of linguine noodles, or however much you think you may need for yourself or family.
Instructions:
Melt and heat butter in medium pot or skillet on medium-high heat. Saute shrimp and chopped seasoning until shrimp are slightly pink and the chopped seasoning is soft and onion is translucent. Sprinkle salt, pepper, season-all, and cayenne pepper over shrimp as they saute. (I just barely sprinkle salt and pepper and am more liberal with the season-all and even more liberal with the cayenne pepper! I like it spicy!)
Add in crabmeat and crabmeat juice from the container and allow it to heat up with the shrimp and seasoning.
Add tomato paste and tomato sauce, stir in and mix well. If sauce is too thick add a small amount of water to thin. (I usually put a little bit in one of the empty tomato sauce or paste cans and add in with the other ingredients. I always add extra cayenne pepper as well!)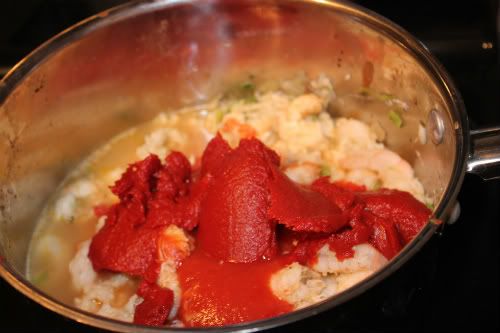 Turn heat down to low. Allow to simmer for 20 – 30 minutes. (In the meantime, heat water to boil for linguine noodles. Allow to boil until al dente.) Sauce will look something like this!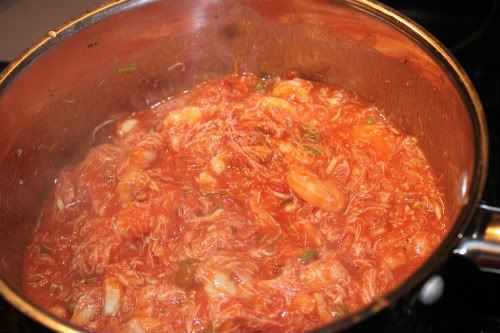 Plate desired portion of noodles and spoon sauce on top. Enjoy!